Celebrating Women in the Workplace
Throughout the month of March we are taking extra time to celebrate the women at Okoboji Motor Company. We asked all of our female colleagues the same three questions, and the responses we received were empowering.
Tabatha Kizzier, Title Clerk at Okoboji Motor Company wanted to share her experiences and challenges of being a woman in the automotive industry. Take a peak below to see what she had to say!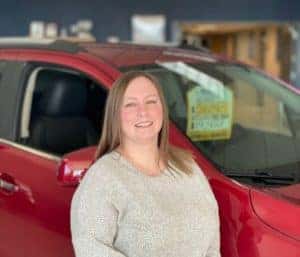 What advice would you give to young women who want to succeed in the workplace?
"Believe in yourself. You will make mistakes, learn from them and grow. I was once told if I wasn't making any mistakes it meant I wasn't trying new things. Most everything can be fixed, you just need to learn from it."
How are you breaking barriers faced by women in your field?
"The field is mostly male, has been for most of the industry's history. Being a female thriving in this industry is breaking barriers in itself."
Tell us about a woman you look up to and why?
"It is hard to pin point one person. I have various women in my life that are leading the way in many things that I care about. My mother raised three strong headed girls. My supervisor at work has been helping me advance in my job and life from the day I started with the company. The director at the shelter we volunteer with continues to pave the way for better lives for many animals. Many of my female family members and coworkers are pushing boundaries and leading the way down new paths. Everywhere I look, I see a strong woman doing what she loves and not being afraid to stand up for herself."